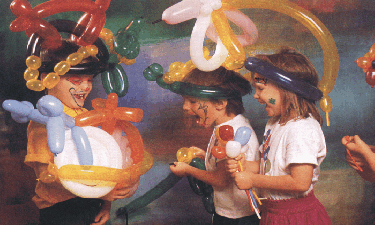 PRICE LIST
Good music, Games, 1Clown, 1Mascot $150.00

(recommended for 10 – 30 children)

Good music, Games, 2Clowns, 2Mascots $185.00

plus 1 side attraction.

(recommended for 31 – 80 children)

Good music, Games, 2Clowns, 3Mascots $210.00

Balloons sculpture plus 2 side attractions

(recommended for 81-200 children)

Full Entertainment package $600.00
(recommended for corporate parties or 201- 500)
This includes 10Mascots, 4Clowns, Good music
plus P.A. system coordinated games,

3 side attractions and balloons sculpture

The available side attractions are:

Cultural dancers

Face painting

Magic tricks

Disco Dancer

Michael Jackson Dancers

Puppet Show
Castles

Mini Merlin $100.00

Deluxe Party Bouncers $120.00

Pit Ball Mountain $ 50.00

Thomas the Tank Engine $ 40.00

Rides
Flying Jumbo merry go round $200.00

Children's Train (a) $225.00

Children's Train (b) $350.00

Hydraulic Rides $100.00

Horse or Donkey Ride $60.00
Candy Floss $ 0.35

Pop Corn $ 0.35

Sno-Kones $ 0.50

Ice Cream $ 1.00
Children Party Balloons $100.00

(300 Balloons 50Personalised)

Mini Decoration $ 30.00

(100 Balloons)

Full Decorations $400.00
(1,000 Balloons 100 Personalized)
High Table Decoration $ 90.00
Party hats, fun erasers, flexible and colored pencils,

clown banks, jig saw puzzles, bendable clowns,

hot dog sharpeners, bubble pens, etc. PRICES FROM $0.02

For more Information call Tope or Seinde Olusola on +234-1-4701024 or +234-1-831576 or e-mail us.

We would contact you as soon as we get your messages.

Hope to hear from you soon!